Jul 11
Attendees Fire Suppression Support and Keeping Cool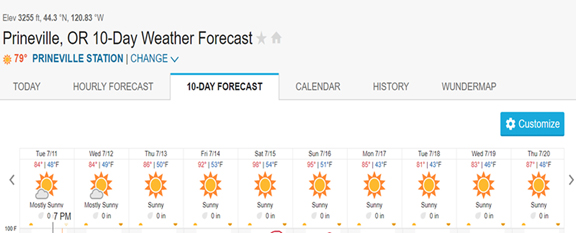 Hello friends of OSP!
One of the issues at our event is heat. The 10 day forcast for Prineville looks pretty good, but warm.
Be aware, temperatures at Indian Trail Spring is usually 10 degrees lower than in Prineville.
Make sure you bring plenty of water. Also, remember to have your 5 gallons of water and a shovel for fire suppression.
The forest service requires every attendee to have these items at their campsite.
A great item to purchase before you come up to the mountain. A fan/misting spray bottle will do a great job of keeping you cool on those hot days at OSP. You can find them at Walmart, Bimart, Walgreens and lots of other locations.