Speakers
Bob Grossfield – Public Astronomy in Central Oregon
Bob has been involved in astronomy in Central Oregon since 1990 after receiving his BA from the University of California at Santa Cruz.
After starting as a volunteer at the Oregon Observatory, he became the manager in 1998. He has advanced the teaching and outreach of astronomy throughout the greater Northwest community. He has been attending OSP as long as he can remember!
He is a distinguished member of NASA/JPL Solar System Ambassador program since 1998 enjoying the benefits of the advanced programs offered by the organization.
Since 2007 he has been the principal instructor in Astronomy at Central Oregon Community College. Bob continues his education through special programs offered through NASA and other institutions. Bob was involved with getting the Worthy Brewing and Prineville reservoir observatories up and running. He is currently owner of Central Oregon's first astro-tourism company, Oregon Astronomy & Rocketry. He also founded a new educational non-profit located in Central Oregon. Cascade Astronomy & Rocketry Academy (CARA). CARA's primary goal is to astronomy and rocketry educational programs in schools and other community activities.
Long range plans include building a community observatory in Central Oregon. Bob loves Central Oregon, as he spends time in the outdoors, enjoying skiing, snowmobiling and boating, as well as enjoying the night sky.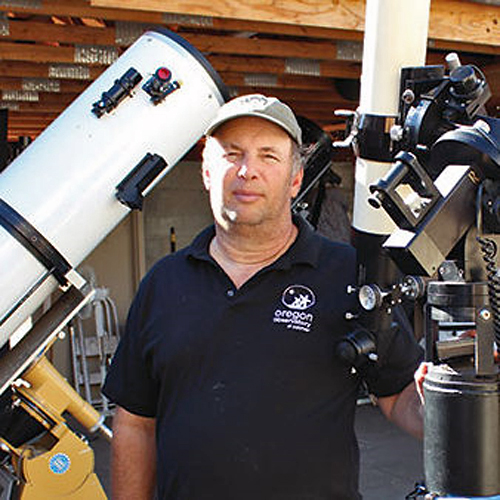 Brian Hatley – Observing Programs
Brian Hatley will talk about the OSP observing program to familiarize attendees with the five lists. Attendees will hear what the program is all about, how it works, and what lists might be of most interest to try. Content and highlights of each will be discussed.

Bio:
Brian's astronomy passion began in grade school… the Apollo missions, sci-fi, and Astronomy magazines ignited his interest, and it's never faded. His science and electronics interest drove him to earn a BS in Electrical Engineering. His career started at a small audio company, then moved to Boeing where he held many design and lead roles in audio systems design, logic & chip design, networks and communications, and large systems labs architecture, development, and operation. He recently retired but now supports Boeing as a contractor.
Brian's astronomy hobby started with a big pair of binoculars and attending his first OSP in 2000, starting with Messiers and other brighter "faint fuzzies." By 2005 he "graduated" to a 10" Dob with "push-to" location automation. A couple years later the automation failed (coincidentally with first hearing about observing programs) so Brian bought a detailed star atlas and started to work through a list. That was the catalyst… He's done observing lists annually ever since – never returning to location automation (even after repair).
Over the years, he developed his skills, and at OSP earned pins for all the list types. "There's nothing like the amazing views and beauty of objects in sky," per Brian. The other part, he says, is the thrill of the "hunt." "Can it be found? Can it be seen? Will a filter help? How far can I push the limits?" Now Brian is building a bigger telescope and adding night vision to look even deeper.
After supporting list checking in 2017 (busy year… eclipse) he was offered leadership of the observing program – his answer was YES! His viewpoint is "What better way to give back for all the joy of observing than to help others experience the very same thing!"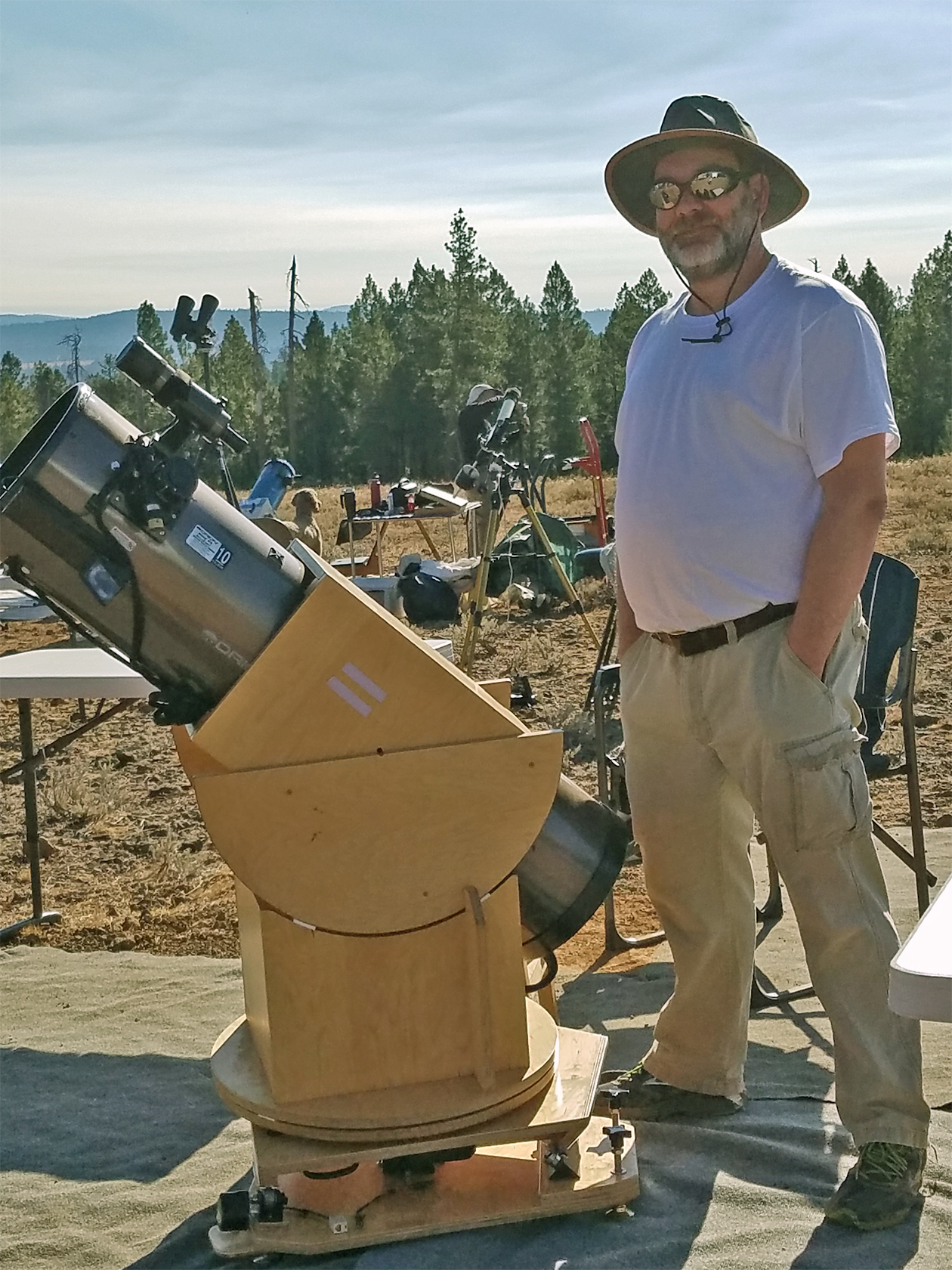 Bob Yoesle
Solar Amateur Astronomy
Rose City Astronomers member Bob Yoesle will give an introduction to the world of solar amateur astronomy, including solar outreach education, a bit about solar physics and sunspot cycles, solar filter and telescope construction and how to safely observe the sun's photosphere and chromosphere, and an introduction to solar imaging. The presentation features many pictures taken by Bob with his solar telescopes.
Bio:
My interest in solar astronomy began at age six with my first telescope, a 60 mm refractor I received as a Christmas gift from my parents. This small telescope allowed the observation of the Sun's photosphere and its sunspots. I found the ever changing appearance of the Sun to be quite interesting. While in 7th grade I was shown the Sun through a dedicated observatory telescope equipped with a Hydrogen alpha filter – it was the proverbial "religious experience." I purchased a DayStar H alpha filter as soon as they became available to the amateur community in the mid 1970's.

For many years I have engaged in solar astronomy outreach with the public in an effort to improve science literacy, mostly using the magnificence of our nearest star. Daytime solar outreach provides an opportunity to introduce concepts in physics and light, orbital mechanics, eclipses, the cosmic distance scale, and the importance of renewable energy for the health of our planet and our society. This also can be coordinated with local educators during weekday daytime hours for students.

I also engage in education about the importance of our dark sky natural heritage with PowerPoint presentations throughout the Columbia River Gorge National Scenic Area, was awarded a Dark Sky Defender award in 2015 by the International Dark-Sky Association, and have a website dedicated to this endeavor: www.darkskydefenders.org.

I am a member of the Rose City Astronomers in Portland, Oregon, and also enjoy helping others with their questions about solar observation, imaging, and equipment on various solar related forums.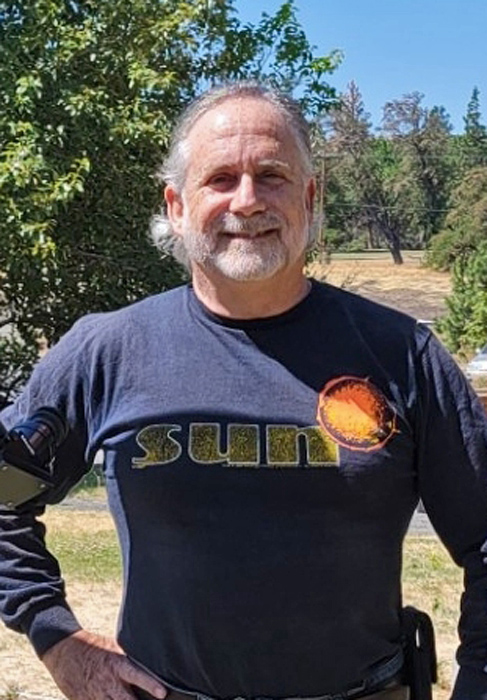 Jeff Eriksen
Getting Started in Astro-Imaging
Jeff & Robert will review the various types of astrophotography or astro-imaging and show several equipment configurations for beginners. These will include options for cameras, optical tube assemblies, mounts, and filters. We will show the type of configurations suitable for solar, lunar, planetary, and deep sky objects. Finally, we will make suggestions for planning, image capture, and image processing software.
Jeff began visual observing around 1992 when he attended his first OSP with his then 7 year old son, He was hooked and has attended most of the subsequent OSPs. In the 90s he borrowed various Dobs, and in 2000 his wife gave him a 5-inch alt-Az NexStarSCT Go-to 'scope. His first attempt at astrophotography was in 2003 when Mars was at its closest approach of our lifetimes, using a prime focus film SLR camera. Around 2010 that rig was replaced by a Celestron 8-inch SCT with an AVX equatorial mount to support astroimaging. This was accomplished with both DSLR and CMOS cameras using basic tracking and a piggy-backed guide scope. A few years ago, to save his back, he shifted to a small refractor on a lighter weight mount.
Jeff still has a lot to learn about astrophotography, especially in the processing realm, so last fall Jeff joined Robert Nelson in taking the reins of the Astro-imaging Special Interest Group. What better way to learn that to try to teach other people? We are focusing initially on beginners and attempting to not leave anyone behind.
CHRIS DIX (Co-Director)-Welcome to OSP Q&A – Using Spreadsheets for Telescope Design
Chris was introduced to the night sky at the age of 9 by his father when he viewed the moon thru his father's homemade 3-inch reflector. This telescope was constructed from an Edmunds Scientific surplus mirror, a cardboard mailing tube, a microscope eyepiece, rectangular diagonal, and a focuser that slid along the axis of the OTA. At the age of 12 Chris received a 3-inch refractor for Christmas. Crunching through the fresh crust of ice that covered the snow in a Boston suburb backyard, he got his first glimpse of Saturn's rings. Although a wee speck in the field of view – the hook was set. Later in High School the objective of the 3-inch refractor was removed and placed in a cardboard tube that was mounted to his 35mm camera (poor-mans telephoto) that was used to take photos during Friday night football games for the school newspaper. After graduating from the University of Tennessee with a BS in Engineering Physics, he joined the Smokey Mountain Astronomical Society (SMAS) that met in the Physics building on the Knoxville campus. Borrowing a 10-inch Dobsonian from the club, he started chasing Messier objects and learning the night sky. When his father retired and moved from Florida to be near the grandchildren, Chris invited him to a club Star Party. The November air was cold and steady. In an 8-inch long focal length outfitted with a Barlow and short focus eyepiece Jupiter filled the field-of-view and we all took turns watching the shadow of a transiting moon. This was a full-circle kind of event and I felt blessed to share the experience with my father.
Chris earned his MS in Material Science and then moved to Oregon in 2001 to work a Lattice Semiconductor. His first OSP was 2002 and he purchased a pair of binoculars with which he completed the Messier Binocular in 2016 (slow and steady). In addition to the 8-inch "planet killer" f10 telescope reconstruction (the inspiration to use a spreadsheet for optical design), Chris has also been grinding a 12-inch "honeycombed" f3 mirror.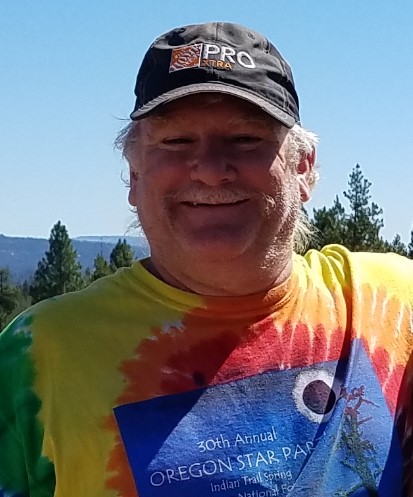 BRIAN KRUSE-Eclipse Ambassadors
Brian Kruse, science educator, geologist, astronomer, birder, photographer, poet, lives in San Francisco, California where he is the Director of the Teacher Learning Center and Formal Education Programs at the Astronomical Society of the Pacific, managing and coordinating a varied portfolio of programs. He writes the Education Matters column for Mercury magazine, a quarterly publication of the Astronomical Society of the Pacific. You can also find him online as the host of the monthly astronomy webinars from the NASA Night Sky Network.
A veteran classroom teacher, Kruse has taught middle school earth science and physical science, and high school physics and integrated science. He has served as a coordinator for the NASA Explorer Schools project at NASA Ames Research Center in Mountain View, California. Kruse holds a B.S. in Geology from Whitworth University in Spokane, Washington, and a M.S. in Aviation and Space Science from Oklahoma State University. He currently holds a California Clear Single Subject Teaching Credential in Physics, Geosciences, and Biological Sciences. He is also a Certified Interpretive Guide for interpreting natural phenomena for a diverse array of audiences.
When not working he is often found hiking, birding, or looking through his telescopes at the night sky.
You can find his blog at musingsontheplanet.org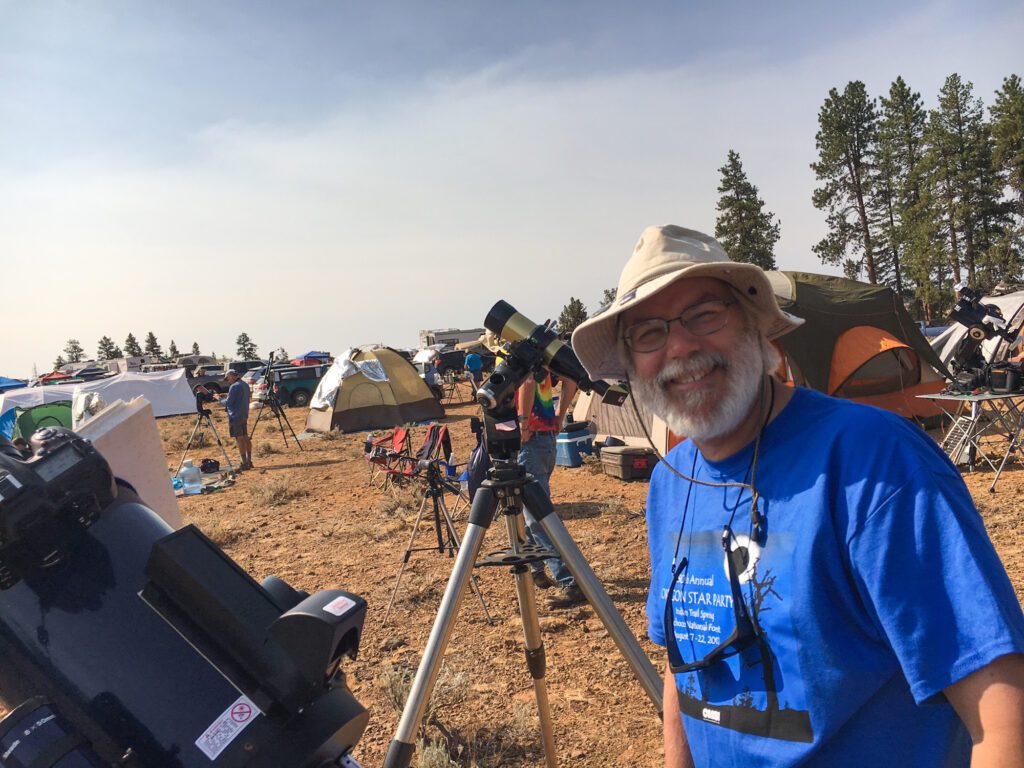 BHAVESH PAREKH-The Making of a Field Guide to the NGC
AND
Our Place in the Universe
A novice astronomer who got his first telescope, an Obsession 15″ UC, in 2017, and how he managed to create, within a year, an advanced observing tool for amateur astronomers. This talk is an introduction to the Field Guide, containing 7000+ large images, of NGC objects, from the Sloan Digital Sky Survey. This is a story of what's possible when cooperation and collaboration are combined with curiosity and passion!
More at: www.pdxastronomy.com.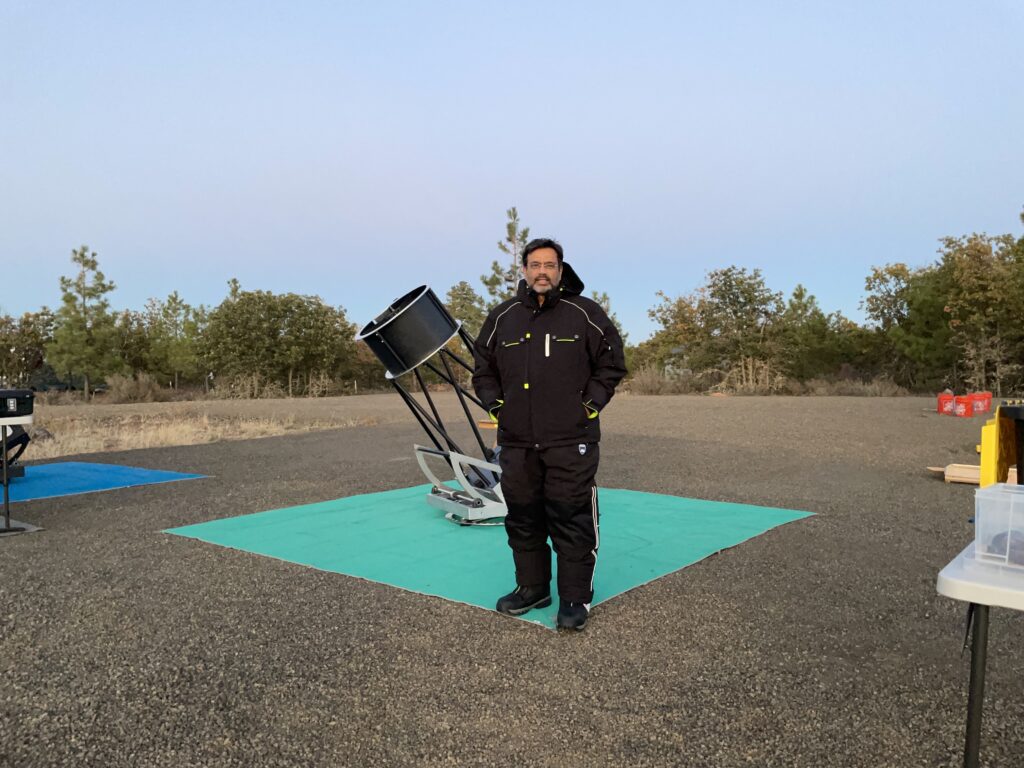 MARIANNE RAMONA (Co-Director)-Welcome to OSP Q&A
From her humble beginnings as a child whose interest in the stars started with a book, Know the Stars by H.A. Rey to a trip to Steens Mountain, alone, Marianne has developed a love of astronomy as an adult.
From the old Tasco telescope her brothers had to the Celestron C102 4 inch refractor full manual telescope on a beautiful new German Equatorial mount, she's looking forward to taking her equipment out to Indian Trail again.
Her love of science came from being a Girl Scout, going to places like the Exploratorium in San Francisco, the Monterey Bay Aquarium and many other places she took her children. She spent 30 plus years as a Respiratory Therapist. She attributes her interest in stargazing based on a trip to Steens Mountain from a work colleague in the 1990's. They had a conversation about stargazing. He told her, "If you want to stargaze somewhere amazing, go to Steens Mountain". She made the trek in the 90's. This has indirectly lead her to her first Oregon Star Party in 2013.