Every summer, amateur astronomers gather at Indian Trail Spring in the Ochoco National Forest, located 45 miles east of Prineville, Oregon, for the Oregon Star Party. We go to this remote location for the very dark skies, low humidity, and wonderful nighttime viewing.
In partnership with Ochoco National Forest, Oregon Star Party is a nonprofit organization staffed entirely with volunteers. Operating under a permit issued by the US Forest Service, Oregon Star Party is spread across 40 acres at Indian Trail Spring. This is a primitive site with an elevation of over 5,000 feet and an unobstructed 360 degree horizon. Oregon Star Party is considered to have the darkest skies of any major star party in the continental United States.
Each year, OSP's volunteer planning committee plans youth and adult activities, secures door prizes, and arranges for vendors to sell their wares during the five day long event. Onsite amenities include portable toilets. Volunteers staff the entire event, including a first aid crew.
Please see our registration page to sign up for a volunteer shift.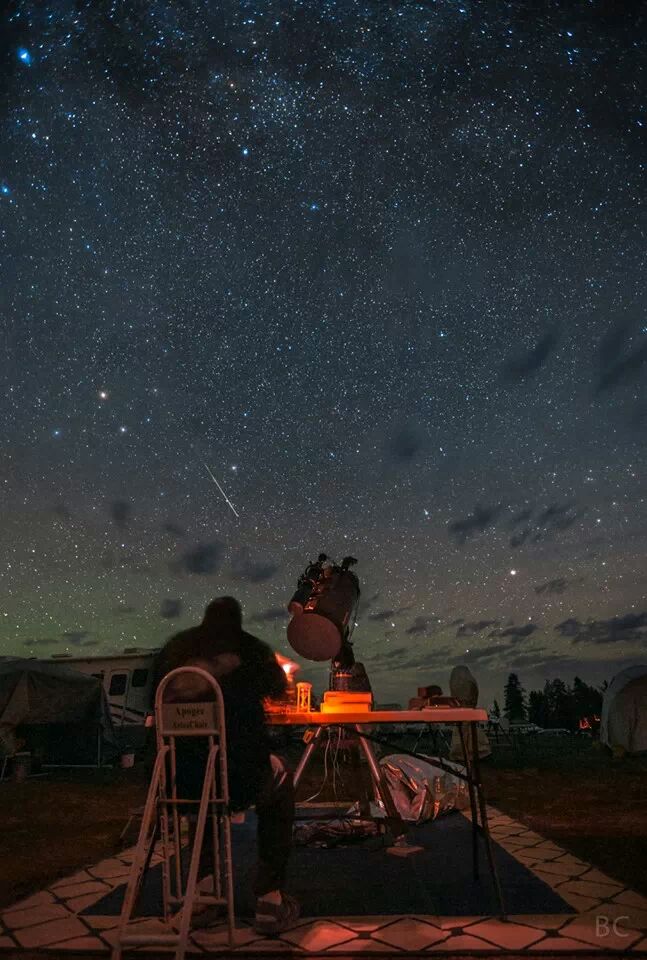 Amenities
Mobile Shower – We were unable to procure showers for this event.
Porta Potties – OSP has Porta Potties throughout the camping areas, arriving Monday pm through Sunday.
Trash – A large trash container is available on the 800 road by the Shower Truck. Please deposit trash and garbage during the week or when you leave OSP.
Water – In general, you need to bring your own water to OSP, one gallon per person per day. Volunteers also have water available during their shifts, bring your own bottle.
It is very important to stay hydrated at OSP's dry desert environment.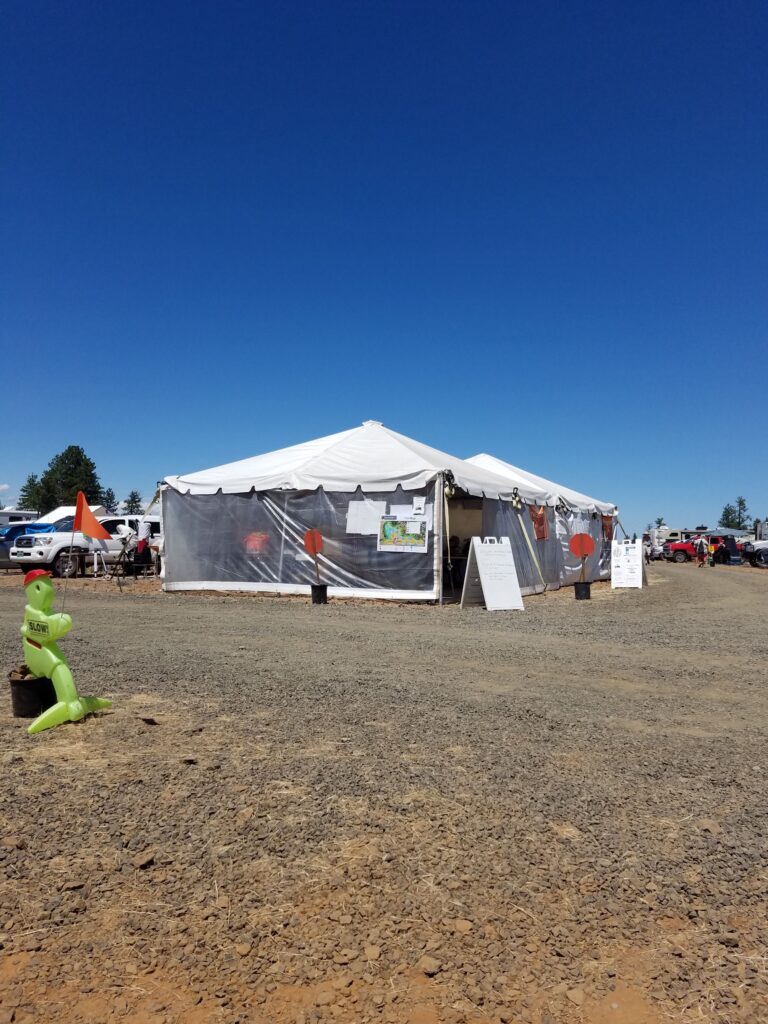 FAQ for Oregon Star Party 2023
1. Will the shower truck be onsite?
We were unable to procure a mobile shower truck for this event in 2023.
2. Do I have to wear a mask?
Masks will be optional at our event, but highly recommended to protect those of our attendees who have chronic, serious health issues. Please respect those who choose to wear them.
3. I want to buy ice. Can I preorder?
Ice pre-ordering is available during registration and a limited amount will be available for sale during the star party on a first come-first served basis. When the ice is gone, it's gone.
4. What is the artwork for 2023 OSP?
We decided to keep our winner for 2020 as our 2023 logo. T shirts, hoodies and sweatshirts will be available for pre-order during registration and for order updates through June 30th. If you really want something, order it when you pre-register to guarantee you'll get what you want.
5. If I don't register early, can I still attend the event?
Yes, but with limitations and other issues. If we reach our maximum number of attendees, we will not be registering additional folks on site. This happened in 2017 for our event due to the eclipse. If you register early, you can pick the merchandise and dinners available. After early registration closes, if we have merchandise or dinners available, you may be able to purchase them onsite. Availability may be limited or nonexistent.
6. Can I get a discounted registration if I only attend a night or two?
We do not offer a discounted or 'by the night' registration.
7. You ask for people to volunteer at the event. Why should I?

OSP is a great opportunity to volunteer to help make our event run smoothly. Our volunteers are what make OSP happen. Many hands make light work. Our entire committee is made up of volunteers who proudly attend zoom meetings all year to make this event happen for you.
You might have an opportunity to meet people you might not get a chance to meet otherwise.
We would love to have you on site to help us make OSP a success again this year. If you preregister, you'll see a link for signing up for volunteer shifts.
8. Is internet available? How's the cell service?

OSP does not provide internet service. Indian Trail Spring is remote and cell service is carrier dependent and spotty, at best. We cannot guarantee you will have cell service. OSP won't have access to the internet.

Organizers arrive at the onsite location ITS, usually a day or two before the event. They won't be able to answer questions or post notifications on Facebook, Cloudy Nights, or our website.
9. Does the star party offer food in 2023?
We have contracted with Cody's Country Catering to provide dinners Wednesday, Thursday and Friday night.
No other food or beverage offerings will be available.

We are also looking for new committee members to join us. If you are interested please contact:
We look forward to seeing you this year, OUR GRAND RETURN!