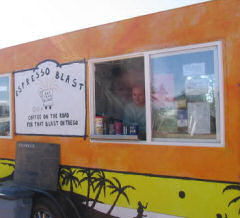 Espresso Blast
Shawna offers hot drinks including: Mocha, Latte, Cappuccino, Chai and Hot Tea.
Shawna also offers cold drinks including: Iced Mocha, Iced Latte, Mocha Ice Rage, Italian Soda, Touraco and Iced Teas, and Fruit Tea Smoothies.
Shawna will begin serving Wednesday afternoon and continue through Sunday morning.  Cash only, please.
A la carte food and Star Dinners
The Oregon Star Party is pleased to announce that the local chapter of the Lions Club will again be providing food service at this year's OSP. Using their portable kitchen trailer the Lions Club has been providing event food service to groups large and small in the Prineville area.  For the Oregon Star Party, the Lions Club will be providing both a la Carte food and Star Dinners.
A la Carte food will be available on-site for all attendees 24/7, except for normal dinner times, starting midday Wednesday and ending at 4 am Sunday morning.  They will be offering hamburgers, chips, salads, etc.  A Sunday morning breakfast will also be offered.
Star Dinners will be available Wednesday through Saturday nights  when purchased at the time of registration.  A limited number of star dinners may be available onsite  each night.  But these will only be offered after all prepurchased meals have been served.
Prineville Lions Club chapter has served the Prineville community since 1938!  Funds raised by the club facilitate local sight and hearing needs.  If you have old eye glasses and hearing aids that are no longer used please bring them to the star party and the Lions Club would be happy to collect them for others to use.
2020 Star Dinner Menus
Preorder pricing:  TBD               Onsite pricing:  TBD
Wednesday
TBD
Thursday
TBD
Friday
TBD
Saturday
TBD