America's Astronomy in Chile Educator Ambassadors Program (ACEAP)
Over 60% of the world's largest and most advanced observatories are located in Chile with major funding from the USA, ESO, and other countries.  Many Americans may not be aware of these tools in spite of their major discoveries.   Each year, a group of educators are selected to visit Chile and get the word out under a program called the Astronomy in Chile Educator Ambassadors Program (ACEAP).   Pat was selected as a part of the 2018 team and visited there in January.   He will be discussing the great telescopes and radio telescopes in Chile along with some of their recent discoveries.
More information can be found at:
ACEAP ambassadors visit NA funded observatories in Chile
AUI Office of Education and Public Engagement. "ACEAP 2018 Ambassadors"
https://www.inc.com/betsy-mikel/yale-is-letting-anyone-take-its-most-popular-class-ever-for-free.html
North American Ambassadors of Astronomy visited ALMA
Klesman, Alison: "Sharing the Skies Above Chile," Astronomy Magazine (April 2018) pp. 28-33.
Bogardus, William: "Astronomy in Chile Ambassador Program," Reflector (June 2017), pp.12-13
Biography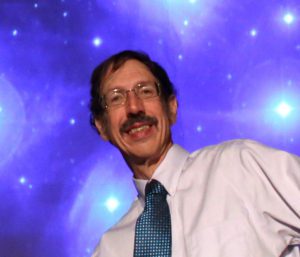 Pat Hanrahan is Director of the Mt. Hood Community College Planetarium in Gresham, Oregon where he produces all of their planetarium shows as well as special school shows for K-12 students
(see www.mhcc.edu/planetarium).  Pat also initiated, planned, and designed the planetarium's new digital projection system.  In addition to running the planetarium, Pat has tought astronomy courses at Mt. Hood Community College where he received their 2014 Excellence in Teaching Award in June 2014.  He previously taught astronomy at Clackamas Community College, and at Portland State University. Seasonally, he has served as Resident Astronomer at Sossusvlei Desert Lodge in Namibia to show guests the treasures of the southern sky (2011-2015).  At the request of the lodge's parent company (&Beyond), he was sent to train their rangers about the night sky in Namibia, Botswana, and South Africa. He had also served as the Observatory Director of the Haggart Observatory at Clackamas Community College in Oregon City, Oregon.