Additional speakers will be announced as they are confirmed.
MEL BARTELS: TELESCOPE WALKABOUT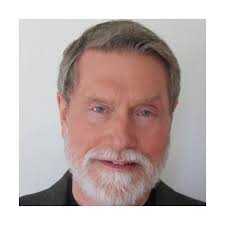 Mel writes: In elementary school, for an assignment titled "If You Could Make Two Wishes and Have Them Come True, What Would They Be?" I wrote "My first wish would be to have a flying saucer that had telescope in it. My second wish would be to be a great music player." Well, I am an amateur astronomer, I played trumpet professionally for many years, and have a pilot's license, so, pretty darn good! Currently, Mel is a software development manager for a software company in Eugene, Oregon.
TONY HILL & ANDY PHELPS: WELCOME TO OSP, ALL QUESTIONS CONSIDERED FAIR GAME
New to OSP? Curious about the star party's history? What else do you want to know? Come meet Oregon Star Party's directors and ask your questions. Welcome!
Tony first attended Oregon Star Party in 2007. A year later he joined the Oregon Star Party Committee and has assisted with Operations, Publicity and most recently became Co-Director. A self-professed astronomy addict, Tony admits he spends way too much time on the hobby either observing, astrophotography, reading journals, and volunteering at public star parties. He's clear he has no plans on changing this situation anytime soon!
Andy has been attending the Oregon Star Party since he moved to Oregon from the light polluted skies of the east coast in 1998. He credits his mom with his interest in astronomy and space, remembering her showing him the constellation Orion from their backyard as a kid. She even woke him up late at night at age 4 to see Neil Armstrong take his first steps on the Moon.
HOWARD KNYTYCH: LIMITING MAGNITUDE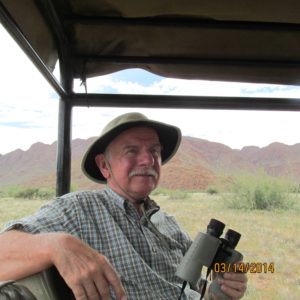 Limiting magnitude is a quick method of assessing sky quality for darkness by sampling various regions of the sky and simply counting the number of stars one can see in each region. The method will produce different results for each individual, thus it's also a gross or general assessment of individual visual acuity. We assess they sky at evening twilight as the stars appear. We also give a brief historical overview of visual magnitude as a measure of brightness and how it applies to celestial objects.
Howard's interest in the sky sprouted in childhood, but grew and branched into active passions throughout his life. He became a commercial pilot and FAA flight instructor in his thirties and conducted search and rescue missions in his forties. One evening while serving as an instructor at a mountain flying clinic in Lakeview, OR, he saw the night sky from the ramp and was inspired to pursue astronomy. Since then he's become active in the astronomy community in Portland. After retiring in 2005 he started his encore career as an astronomy instructor at Concordia University. In 2008 he and his wife Darla spent part of the summer doing astronomy outreach at Chaco Canyon, NM. Since then he also began teaching part-time at Mt Hood Community College.
DAVE POWELL: NIGHT SKY TOURS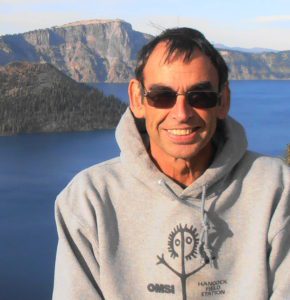 Dave Powell is a past director of the Oregon Star Party and current member of the Oregon Star Party Committee.  Dave has been your "Night Sky" tour guide for many years at OSP, pointing out constellations and wonders of the night sky, telling stories from Mythology and will even throw in some science.   He also volunteers at the Oregon Museum of Science and Industry's (OMSI) Hancock Field Station during their science camps and outdoor school. Dave has earned several of the Astronomical League's observing awards and also received the Astronomical Leagues, Master Outreach Award.  Over the years Dave has made informative and entertaining presentations at the Oregon Star Party and at various astronomy clubs and other events in the Pacific Northwest.  
Dave earned his Bachelor's of Science degree in Psychology in 1975 from Portland State University, has two grown children and currently lives in Ashland, Oregon, where he also volunteers for the Oregon Shakespeare Festival.  
OBSERVING AWARDS OVERVIEW AND TIPS
Each year, new observing lists are created for Oregon Star Party to challenge and interest attendees. The observing lists are developed to challenge different levels of observing. Join us to learn about this year's observing lists, and ask any questions you might have about the observing award program.