Shawna offers hot drinks including: Mocha, Latte, Cappuccino, Chai and Hot Tea.
Shawna also offers cold drinks including: Iced Mocha, Iced Latte, Mocha Ice Rage, Italian Soda, Touraco and Iced Teas, and Fruit Tea Smoothies.
Shawna will begin serving Wednesday afternoon and continue through Sunday morning. Cash only, please.
==========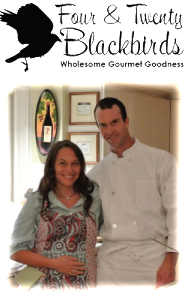 We are pleased to welcome Four & Twenty Blackbirds and Chef Shane to The Oregon Star Party for the third year. Chef Shane has spent the last sixteen years working in some amazing places like Aspen Colorado, The Bahamas and the Pacific Northwest and worked under wonderful chefs including Claude Masson and Michael Fiske. He added businessman to his list of accomplishments when he saw an opportunity and started his own food cart service in Glenwood Springs, CO. A risk taker, he sold that business and moved to The Bahamas. It was there that he discovered his love of kite-boarding. Upon returning to the US, he found the best wind for kite-boarding was in Hood River, Oregon. Looking to again unite his three passions: the outdoors, sports and cooking, he purchased a food truck. He is now able to travel to different events, and enjoy good music, kite-boarding and offer mouthwatering cuisine to the public made from the harvest of local farmers. Shane can be found at Hood River Farmer's Market, White Salmon Farmer's Market, The Blues and Brews Festival, Columbia Gorge Bluegrass Festival, Hopsfest, Harvestfest, Kite-boarding For Cancer, and The Cherry Blossom Festival just to name a few.
If you pre-registered, ordered and paid for Star Dinners, your meal tickets will be in your registration packet at the Registration Tent. Star Dinners may be purchased only at Four & Twenty Blackbirds,  subject to availability.   Onsite purchases are cash only.
Star Dinners
Friday

Herb Crusted Chicken with Champagne sauce
Wild Rice Pilaf with toasted almonds
Roasted Local Veggies
Local Green Salad with Peppercorn Ranch , Beverage

Saturday

Beef brisket with red wine reduction
Garlic mashed potatoes
Seasoned Broccoli n Cauliflower
Tossed Salad with Balsamic Vinaigrette, Beverage

Sunday

Lasagna w/Italian sausage & basil ragout
Herbed Asparagus
Dinner rolls
Caesar salad, Beverage

Monday

Honey BBQ Meatloaf
Bacon Green Beans
Roasted red potatoes
Roll n salad, Beverage
A La Carte Menu
Breakfast

BadAss Breakfast Burrito
Peppered Sausage Biscuits n Gravy Blueberry Pancakes with butter n syrup
Traditional Eggs with potatoes n sausage
Yogurt parfait with fruit and granola

Lunch

Coconut Curry Chicken Salad Pita Cheeseburger with lettuce, tomato, pickle
Pulled Pork Sandwich
All Beef Hot Dog with fixings
Caesar Salad/green Salad with dressing

Dinner

Veggie/Chicken Stir Fry with peas, carrots, broccoli and sesame soy
Meaty Marinara with Spaghetti, parmesan and roll
Brat n Potato with onions, garlic, peppers with kraut and stone ground mustard
Spanish burrito with salsa n sour cream
Garden Salad/Caesar

Dissert

Cinnamon Apple Cobbler
Salted Double Chocolate Cookie Fudge Brownies
And more!